Travel back to the 1920's aboard our beautifully restored railcars through the scenic Chehalis River Valley.
Chehalis Valley Coach Ride Excusion

Riverview Coach Ride Excursion
A 13-mile round trip excursion to Milburn, rides by varied and beautiful views of wooded forests, old farmsteads, country homes, and tranquil nature sites.
1:00pm & 3:00pm on Saturdays, April - September 1:00pm & 3:00pm on Sundays, May 30 - August
Regular Summer Weekend Rides Dates:
April 10, 17, 24, 30
May 1, 8, 15, 22, 29, 30
June 5, 6, 12, 13, 19, 20, 26, 27
July 3, 4, 10, 11, 17, 18, 24, 25, 31
August 7, 8, 14, 15, 21, 22, 28, 29
September 4, 11, 18, 25
1 ¼ hour ride - FREE PARKING
Adults: $18.00 Seniors (62+yrs): $16.00 Children (3-13): $13.00 Children 2 and under ride free with an adult.
Active military save 10% by applying promo code MILITARY21 at checkout.  Must show valid active military ID at check-in.
Wine & Beer tasting on these dates provided by Scatter Creek winery
An 18-mile round trip run to a former rail-stop at Ruth, the extended run follows alongside the Chehalis River, its lush riverbanks, forests and farmlands.
5:00pm
Saturdays
Regular Summer Weekend Rides Dates:
May 29
June 5, 12, 19, 26
July 3, 10, 17, 24, 31
August 7, 14, 21, 28
September 4, 11, 18, 25
2 hour ride - FREE PARKING
Adults: $21.00
Seniors(62+yrs): $19.00
Children (3-13yrs): $16.00
Children 2 and under ride free with an adult
The mainstay of rides we offer at the Chehalis-Centralia Railroad consist of coach trains and dinner trains. All of our excursions travel through the scenic upper Chehalis Valley, through pastoral farmland. Our longer coach runs and all of our brunch and dinner trains, travel nearly the entire length of our railroad line including an additional three miles along the Chehalis River. Groups of 20+ are eligible for 20% off, contact us to learn more!
In addition to our regular coach excursions, brunch, & dinner trains, the railroad hosts a number of special events. From themed dinner trains to holiday events like our annual Pumpkin Trains, Santa Holiday Train, THE POLAR EXPRESS™, and Sweetheart Dinner Train, the railroad has many exciting specials to offer. And if you have your own special event you'd like to host, the Chehalis-Centralia Railroad offers charters as well! Check our Special Events page for more information. Ages 2 and under ride free.
Free Parking.
Scatter Creek Wine & Beer Tasting
Will will be offering a wine & beer tasting courtesy of the Scatter Creek Winery on select train rides this year.  Get your taste buds puckered, your nose in the air and imbibe spirits from this award winning winery.
Scatter Creek Winery is a family owned and operated winery that has been serving Washington communities since March of 2005 when our Wine Master perfected the blends using grapes from Eastern Washington. Scatter Creek Winery was just a dream when we started out 14 years ago working to create that perfect blend that our customers now rave about. We may be a small winery compared to others; but, are very proud of what we can do for you, our family and our friends.

Since we opened up 'The Creek' that cold March day, we have won 10 Medals/Awards from local magazines, newspapers, and the local community festivals we proudly participate in.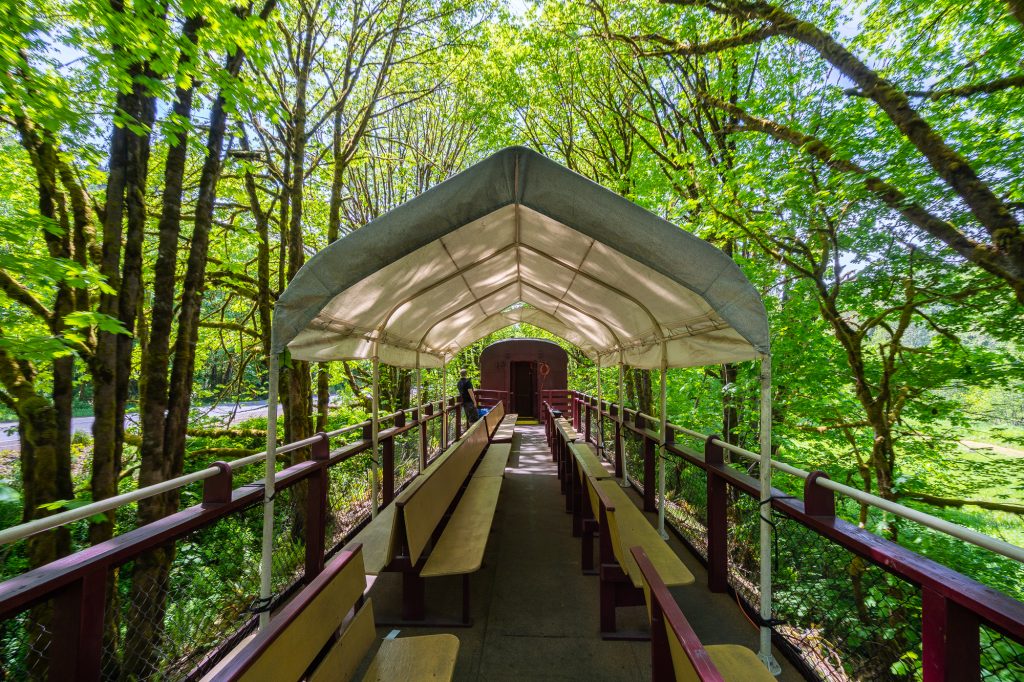 Book a private excursion! The perfect venue for your next event and an excellent opportunity for work retreats, parties and ceremonies. We can accommodate parties of 50-220 people, with add-on options such as dinner service, 2-4 cars, indoor and outdoor seating available. Event packages start at $1000. If you are looking to continue the experience, you may be able to rent the loading platform and rail-yard for your private party. Ask us about our non-profit fundraising rates! For $350 you have the opportunity to add a private car to a regular weekend ride.
Contact us
 for pricing and to learn more about customizing your experience. * Date and time restrictions may apply